Need to keep your budget low, but longing for adventure? To check in and check into a hotel isn't your idea of fun? Wild camping in the Czech republic will secure a holiday full of freedom without any exaggerated planning. For this type of road trip is summer the ideal time of the year. Who wouldn't want to wake up with a view of the mountains or forest.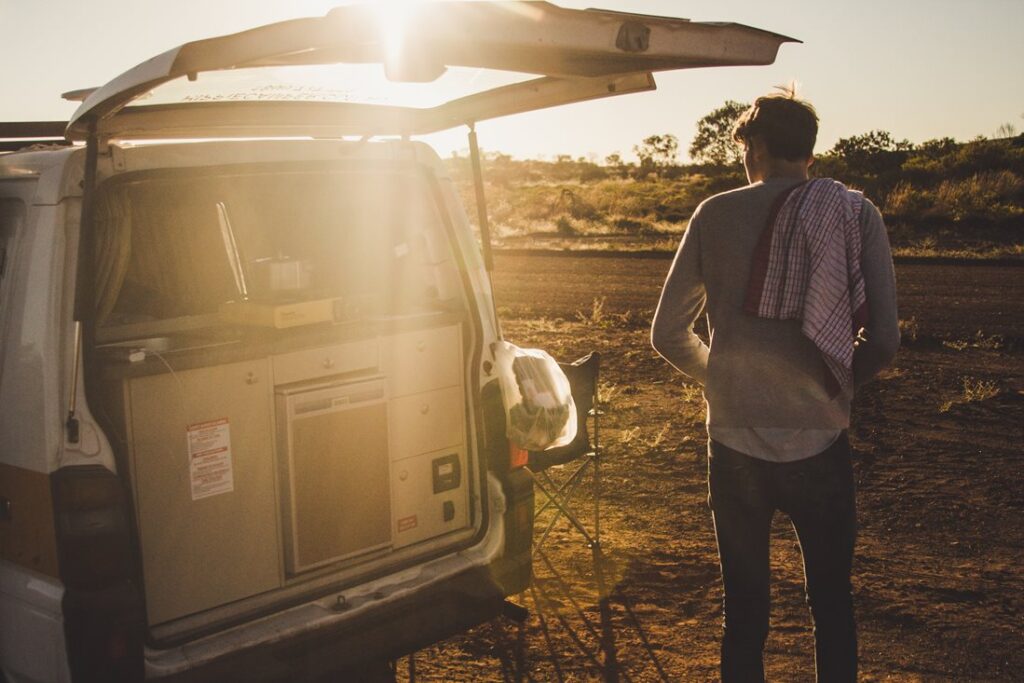 WHICH CAR TO CHOOSE
The type of car that you will choose will affect the comfort of your journey. You can cruise wildly through the republic even in an automobile. Pack some air beds and blankets to balance out the bumps on the seats. To be able to lie down comfortably then the length of the car is most important. Try out in advance how it is like to lie down in the car and don´t forget that you´ll be adding your equipment there too. 
However we recommend renting a VAN with a camping adjustment. You will enjoy your journey much more and your sleep will be first-rate. You can rent a Volkswagen Transporter with a VISU built in. In just 10 seconds you can create a workstation or a comfy place for dinner when it's rainy outside. And thanks to remote benches you always have access to anything that you´ve packed along. 
WHERE TO PARK
There are several possibilities: 
Camps

On so called stellplatzes which are official delimited and reinforced places where campers can park for free or for a fine

Unmarked public places

Agree with an owner who owns a private estate

On a parking spot and sleep outdoors
DOWNLOAD THE APP FOR HELP
The community of people that travel "wildly" is expanding and most of them like to share their experiences. Apps have then been created which significantly ease travelling – for e.g. Park4Night gathers information from experienced voyagers and will point out places where you can sleep over close to your trail. There are tons of locations in the czech Republic that you will find there.  
Do you know about the project bezKempu? If you´re not a big fan of camping and want to spend the night at a really interesting place then rush to their pages. BezKempu connects owners of different lands and people that want a small fee for their loan. Sleepover at a vineyard, plum orchard or a pond pier. At each place will find information about the possibility to park there with a camper or not. 
You can choose to sleep in a sleeping bag or give yourself the luxury of packing a duvet. You have to keep in mind the night temperature. The VISU built in also includes an independent heater thanks to which you´ll be able to set off even in the coldest weather. Drinking water and a flashlight are a must have and if you don't have a filtering bottle then we wouldn't recommend drinking water from ponds and rivulets. Don´t forget to pack mosquito netting so that you don´t wake up like one big spot in the morning. 
ACT CONSIDERABLY
Be considerate to nature and people living around. Try not to be too loud. Don´t leave trash at your camping sites and bury the biological one. Don't chop down trees or destroy the surrounding vegetation. Be extremely careful while setting a campfire. The Czech republic has more and more droughts and a fire can start from a not extinguished live coals at the blink of an eye. Don´t set a fire in the woods out of the assigned places. The main rule when going "wild" camping is – to leave the place in the same state as when we arrived or even better then we found it. 
Already thinking of your road trip trail? The ideal time for adventure is now. Rent through HoppyGo the VW Transporter with built in VISU, pack the essentials and set off!